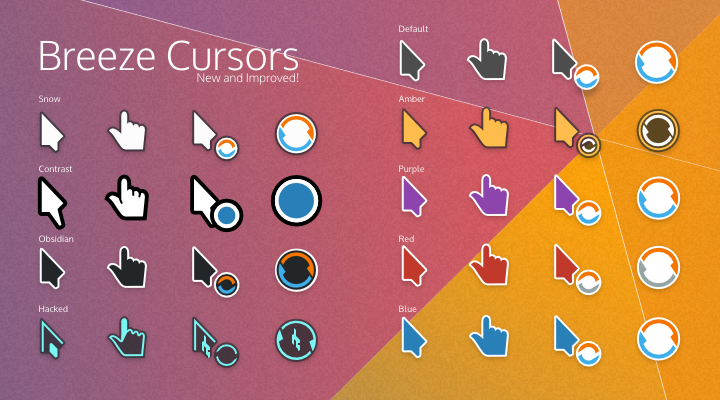 In the upcoming release of Plasma we've done some work on the humble cursor; we've added a few missing states, and there will also be a brand new "snow" version, along with minor tweaks to the existing Breeze cursors. But me being lazy and the merge window having closed, there are a great many more cursors which haven't made it into this release, so I'm putting them here for everyone to use and redistribute.
All of the cursors I'm posting will have 2 versions; the source and the compiled versions. Download the source if you'd like to edit, remaster, or improve the icons – build instructions are included, and our build script has been significantly improved and should be pretty easy. If you just want to use the cursors download the compiled version and simply extract them right into your icons folder (usually found in /usr/share/icons/) and enable them in your control panel.
Standard
Not much has changed, but if slightly softened shadows and diagonal cell-sizing cursors are important (or you just don't have the default cursors) then here they are;
Breeze (Source)
Breeze (Compiled)
Contrast Cursors:
Probably the most important cursor set I regret not getting into this merge quickly enough is a new contrast style; so if you or someone you know is a visually impaired user, I'd like to offer this new cursor set. I can't claim to be visually impaired myself, so if there is a user who is visually impaired I would like feedback on this particular cursor set and its usability. It also comes with an extra-large size as well.
Breeze Contrast (Source)
Breeze Contrast (Compiled)
Hacked
Hax0r3d! Some people love it, other people hate it; here's a colour-matched cursor to accompany the "Ghost" "hacker" style.
Breeze Hacked (Source)
Breeze Hacked (Compiled)
Obsidian
Is the dark default cursor not dark enough?
Breeze Obsidian (Source)
Breeze Obsidian (Compiled)
Snow
This was a widely requested style; white Breeze cursors! These cursors will be in the upcoming plasma release, so if you're upgrading, you can skip installing them.
Breeze Snow (Source)
Breeze Snow (Compiled)
Other Colours
Amber, purple, blue, and red… 'Nuff said.
Breeze Amber (Source)
Breeze Amber (Compiled)
Breeze Purple (Source)
Breeze Purple (Compiled)
Breeze Blue (Source)
Breeze Blue (Compiled)